Use cases for subscription businesses
Increase customer retention & LTV
We help subscription businesses engage and retain subscribers in bank apps, reducing churn and increasing win-back and lifetime value.
Optimize operations & customer experience
Optimize operations & customer experience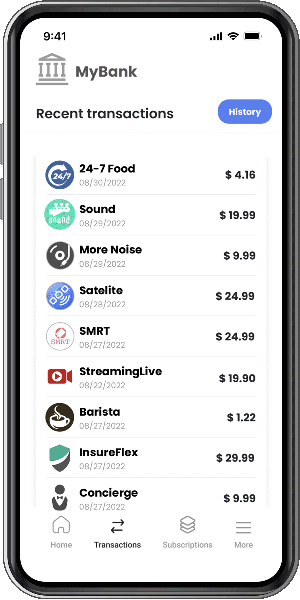 Retain subscribers
Reduce churn and increase lifetime value of your subscribers through banking app offers.
Reduce churn by 25%, lower retention costs with self-serve options.
Reach the consumer within their cancellation journey and retain up to 10% of in banking app subscription cancellations through plan changes.
Increase lifetime value by retaining customers through discounts within banking apps, with 81% of customers staying 7 months or longer.
Operational cost & involuntary churn reduction
Consumer demand & loyalty
Grow & protect revenue
Grow and protect your revenue through increased resubscription rates and plan upgrades within banking apps
Adapt to shifting consumer behaviour with 60% of consumers using their banking app as their preferred subscription management tool.
Give your customers a consistent subscription management experience, through extending your brand reach into banking apps.
Empower customers to upgrade their plans directly in their banking app.
Consumer engagement & reach
Omnichannel & convenience
Optimize operations & customer experience
Improve operational efficiency through automation.
75% of customers resubscribe using the same card, ensure card blocking doesn't stop them from rejoining.
Remove up to 10% of card declines through automated unblocking, directly removing the demand on your customer service teams.
Automate 100% of banking app cancellations managed by Minna.
Consumer demand, engagement & loyalty

"We are thrilled to kickstart this strategic partnership and see this as just the beginning. We are looking forward to incorporating Minna's additional capabilities around defining cancellation flows within banking apps and other broader retention features."
Bank-grade security & compliance
Working with global financial institutions, Minna Technologies has bank-grade compliance, adheres to best practices for information security and helps mitigate compliance risk.
Talk to our experts to discover the value you can unlock for your business and your customers.