Use cases for subscription businesses
Acquire, retain and win back subscribers in banking apps
Reach and engage with over 50 million users in a trusted channel to grow and protect revenue.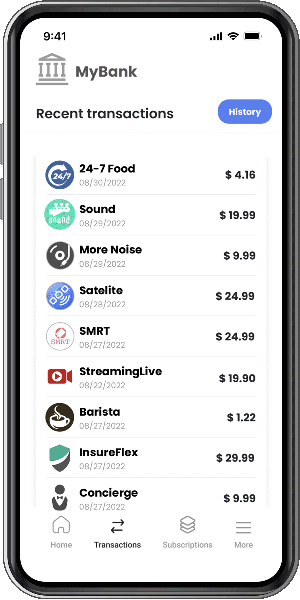 Acquire subscribers
Enable digital banking users to discover new subscription services.
Reach 50 million+ banking app users.
Extend your brand experience and gain new subscribers in a trusted channel.
1 in 2 businesses ranks banking apps as a top subscriber acquisition channel.
Boost acquisition revenue
Enhance product discovery
Extend your brand experience
Retain subscribers
Grow and protect your subscription revenue by giving subscribers enhanced flexibility.
Reduce churn by an average of 26%.
Empower subscribers to accept offers, pause or change plans.
80% of subscribers would rather change their subscription plan than cancel.
Consumer engagement & reach
Omnichannel & convenience
Win back subscribers
Enable customers to churn and return seamlessly.
Increase win-back by 15%.
Enable subscribers to cancel and resubscribe seamlessly by removing payment blocks on cards.
Up to 20% of subscribers regularly churn and return within 6 months.
Enhance the customer experience

"We are thrilled to kickstart this strategic partnership and see this as just the beginning. We are looking forward to incorporating Minna's additional capabilities around defining cancellation flows within banking apps and other broader retention features."
Bank-grade security & compliance
Working with global financial institutions, Minna Technologies has bank-grade compliance, adheres to best practices for information security and helps mitigate compliance risk.
Talk to our experts to discover the value you can unlock for your business and your customers.