Self-serve subscription management
Minna enables banks and fintechs to offer subscription management in their apps.
We help subscription businesses engage and retain subscribers.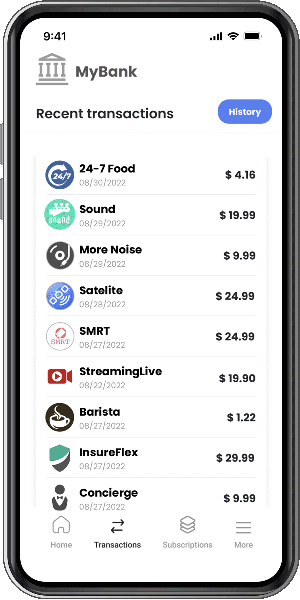 Minna is the market leader for white-label subscription management
20m+
retail bank & fintech users reached
22,000+
subscription businesses connected
Global brands trust us to deliver value


Be top of wallet and increase revenue. Reduce costs. Boost engagement and financial health.

Be top of wallet, increase revenue, boost engagement. Acquire users and convert them to premium.

Benefits for subscription businesses
Reduce churn.
Lower CAC.
Grow LTV.
"We're excited to be working with Minna Technologies to deliver a product that helps to make banking through our app easy and simple for our customers."
James Stenhouse, Lloyds Banking Group
"Our new feature developed with Minna will offer a differentiating experience to our customers by allowing them to have a better insight into their subscriptions and save millions of euros via fully automated cancellation services."
"We are thrilled to kickstart this strategic partnership and see this as just the beginning. We are looking forward to incorporating Minna's additional capabilities around defining cancellation flows within banking apps and other broader retention features."
Jeremy Suddards, CEO, Aptitude Software
"Minna has a strong focus on constantly improving the digital user experience, while at the same time offering the bank's customers hands-on tools that simplify their everyday lives. This has contributed to increased customer value."
"By combining our own efforts with the knowledge and good work of Minna, we allow our customers to regain control of their recurring costs as well as to save money. Minna is an expert within their field and used to working with banks."
Thomas Allan Nygaard, SpareBank
Bank-grade security & compliance
Working with global financial institutions, Minna Technologies has bank-grade compliance, adheres to best practices for information security and helps mitigate compliance risk.
Minna connects global banks and fintechs with subscription businesses to give consumers real-time, self-serve subscription management in-app.
Minna is a technology partner to top-tier financial institutions, fintechs and subscription businesses, providing subscription management functionality for 20+ million banking and fintech customers across the United States, United Kingdom and Europe.

Winner Best
BankTech 2021
Top 20 European
FinTech 2021
Top 5 Global
BankTech 2021
Top 5 Swedish
FinTech 2020
Talk to our experts to discover the value you can unlock for your business and your customers.